A Holistic Strategy to Upgrade Operations & Tackle Commercial and Legal Fallout of COVID-19 Outbreak [Part 3 of 3]
Introduction
Following our last two articles (Part 1 of 3 and Part 2 of 3), the pie below summarises the 3-pronged approach of a holistic strategy that is key to overcoming the possible legal and commercial fallout from Covid-19 and related government measures that are expected to last for many months. In this paper, we look at Dimension 2: Negotiation/Mediation, and Dimension 3: Legal Advocacy, respectively
Dimension 2: Negotiation and Mediation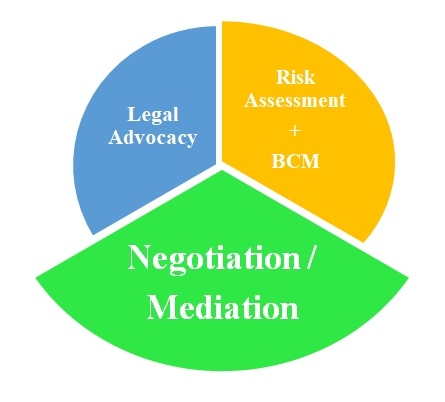 BCM is not intended to protect an organisation from all disruptions or claims. While an organisation that has incorporated BCP would no doubt fare better in the current Covid-19 crises than others without BCP, it is said even the "best-laid plans of mice and men often go awry" (adapted from "To a Mouse by Robert Burns). A well-prepared organisation may be better at responding and adapting to the crises, but that does not totally rule out major disruptions or set-backs due to the Covid-19 outbreak and relevant government measures.
If the Covid-19 outbreak triggers a disruption that leads to a commercial or legal claim against the organisation by customers, employees, suppliers, service providers, regulators, etc., it may at the first instance look for ways to resolve the dispute amicably through commercial negotiations. Authorised representatives from both sides may negotiate on a confidential, without prejudice basis with a view to nipping the problem at the bud.
If negotiation is a non-starter, or should there be any impasse, the parties may agree to appoint a third party neutral (mediator) to conduct a confidential mediation session and help the parties explore common grounds, underlying needs and possible options with a view to achieving an amicable, binding settlement of the dispute.
Concerned organisations may consider negotiation and/or mediation to reach a commercial settlement of the dispute in appropriate cases. It may be important for them to prevent further deterioration of otherwise long-standing, ongoing business relationships with shared commercial interests and goals. In particular, where the cause of the dispute (i.e. Covid-19) is something unforeseen and outside the control of the parties, the parties are likely to have a common interest try to work around the disruption.
Certainly, a party should avoid a knee-jerk reaction to the crises, such as serving notice of claim under the contract concerned and issuing proceedings in the courts. In any event, the current court closures may support use of negotiation and mediation.
Dimension 3: Legal Advocacy (possible legal defences / excuses for non-performance of contract)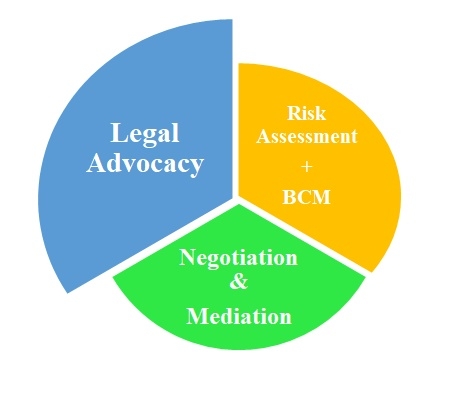 In the event of litigation or arbitration, how can the organisation protect its rights and interests should it become exposed to claims for contract default or other legal claims as a result of the Covid-19 outbreak or relevant government measures?
Among others, there may be two possible defences available to a breach of contract claim, namely "force majeure" and "frustration or impossibility of performance". These are just a few among other arguments or defences often considered in circumstances like the Covid-19 outbreak.
For example, it was reported in early February 2020 that a major oil company declared an event of "force majeure" and declined delivery of some LNG cargoes in light of Covid-19 virus impacting on its ability to import the commodity. It was also reported that CCPIT issued a record number of force majeure certificates in early March 2020.
An organisation exposed to Covid-19 pandemic driven claims may also rely on the alternative defence of the legal doctrine of frustration (as in impossibility of performance) where relevant grounds can be shown.
Broadly speaking, the practical outcome is that a party may on showing relevant grounds be entitled to "excuse" itself from, or suspend further performance of, obligations under the contract concerned. The relevant key elements and features of these "defences" are outlined in the table below.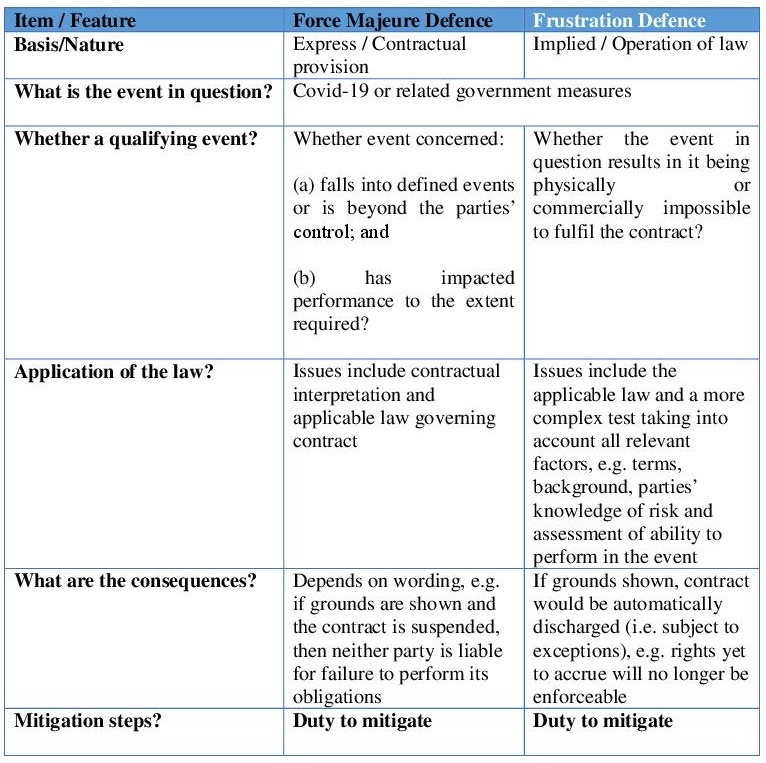 Beware of complexity and uncertainty
From our experience of handling high stakes litigation and arbitration cases (e.g. Covid-19 and other disruptive events), neither of these defences are entirely straightforward to establish. The legal principle of force majeure and the doctrine of frustration can raise potentially complex questions of contractual interpretation and the application of the law to the facts in question.
Broadly speaking, the precise scope of a force majeure clause is likely to turn on the actual wording of the provision in question and complex issues of contract interpretation. In contrast, the application of legal doctrine of frustration to an event such as Covid-19 (or the relevant government measure) could be fraught with uncertainty and often turns on the court's view of the particular facts of the case.
Indeed, an assertion of force majeure or frustration could unexpectedly backfire against a party should it fail to show sufficient for withholding of performance of the contractual obligations concerned.
Also, in contrast to BCM and negotiation or mediation, litigation and arbitration proceedings tends to be less constructive in approach, may be more complex and uncertain, and may involve general "litigation risks", e.g. possible more demands on management time, effort and costs. In short, it is imperative for a concerned organisation to obtain relevant legal advice and carefully consider the situation beforehand.
Conclusion
In summary, while each of three dimensions are important, the holistic or unified approach may be a better response to protect a concerned organisation from any negative impacts of the current Covid-19 outbreak and relevant government measures.
Sometimes it may be necessary to obtain a court judgment and F. Zimmern & Co's litigation team stands ready to assist affected parties. That said, the challenges of proving the subject defences of force majeure and doctrine of frustration (and others), along with the general risks of litigation and arbitration proceedings, underscore the importance of the holistic approach. Proper preparation at the outset is key: business continuity planning to mitigate risks arising from Covid-19 crises and/or negotiation or mediation where appropriate to resolve Covid-19 issues and other related measures.
Indeed, we have seen some established clients adopt the less hard-core approach to addressing Covid-19 commercial issues, tending to prefer negotiation or mediation instead of strict enforcement of contractual rights and legal defences. For example, some contracting parties may prefer a pragmatic approach to maintain ongoing business relationships with suppliers. Or a supplier may wish to be seen to be supportive of the customer by reviewing payment terms, etc. Another example may involve attempts to negotiate a postponement of completion dates for a sale and purchase contract in the cross-border context amid regional travel restrictions and local movement controls.
Contact Us
In this three-part series, F. Zimmern & Co. in association with Grandall Law Firm (Hong Kong) have mapped out a holistic strategy to help businesses to upgrade operations and tackle the ongoing commercial and legal fallout from Covid-19 pandemic.
To better respond to our clients' needs, we draw on our extensive, multi-disciplinary team experience of risk management, business continuity management and dispute resolution practice. At F. Zimmern & Co. in association with Grandall Law Firm (Hong Kong), we are ready to help clients adopt a holistic strategy to upgrade operations and tackle the fallout from Covid-19 pandemic and any claims.
To discover more, please contact our partner, Mr John Lee at johnlee@fzimmern.com.hk or Ms Sally Cheung at sallycheung@fzimmern.com.hk for enquiry.
-END-