A Holistic Strategy to Upgrade Operations & Tackle Commercial and Legal Fallout of COVID-19 Outbreak [Part 2 of 3]
Introduction
As mentioned in our previous article (Part 1 of 3), the pie below summarises the 3-pronged approach of a holistic strategy that is key to overcoming the possible legal and commercial fallout from Covid-19 and related government measures that are expected to last for many months. In this paper, we look at Dimension One: Risk Assess and Business Continuity Management (BCM), also The Foundation.
Dimension One: Risk Assessment and Business Continuity Management Principles ("The Foundation")
1.1 Risk Assessment Process
The risk assessment process allows an organisation to better understand the nature and profile of a risk. It helps to facilitate better design of a high-level mitigation strategies, and its implementation effectiveness, in order mitigate the risk event. It will be Covid-19 pandemic and related government measures in this case.
For example, the process is intended to tell the organisation how its internal operations may be impacted by the Covid-19 risk. It informs how operations and supply chains may be affected by the risk, what it means for the organisation, how it can deliver goods or services in a more effective manner (e.g. ways to reduce disruption) and so on. Without such thinking, the organisation may be oblivious to risk or caught off-guard.
The risk assessment may be an existing part of an organisation's risk framework, helping it to identify risks before the event has materialized. Besides, concerned organisations may still use the tool now to conduct a risk assessment of an extended event such as Covid-19 and as the government measures are being rolled out. Also, it may be used to update a risk assessment based on current developments on an ongoing basis.
Based on our risk management experience, 5 stages of a systematic risk assessment process is outlined below. This forms the foundation of the holistic approach. In short, clearly the risk assessment would warn or confirm that Covid-19 is a high priority risk event that demands immediate attention.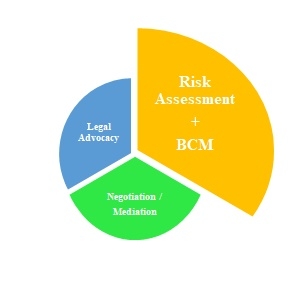 Risk Assessment Checklist (with Covid-19 pandemic as example)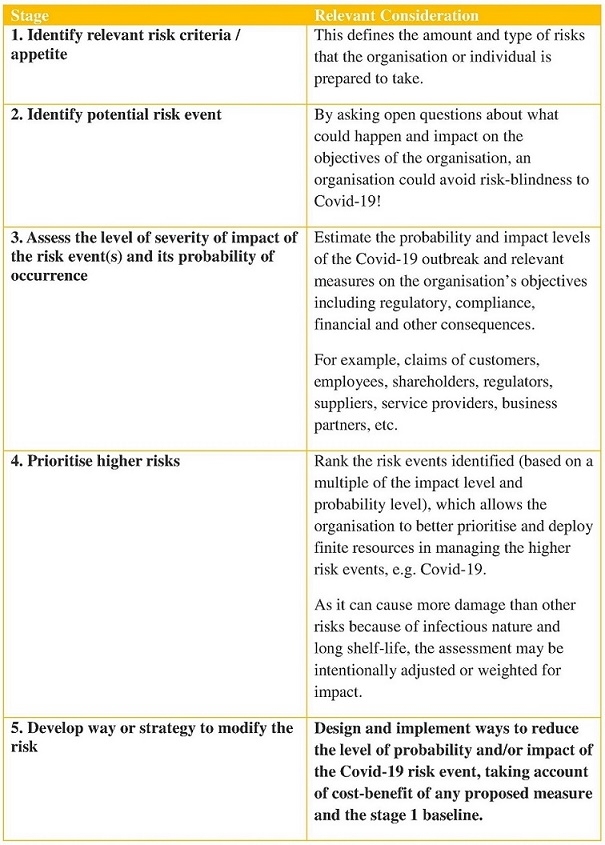 1.2 Business Continuity Management (BCM)
The risk assessment may have identified Covid-19 as a so-called "black swan" event, meaning a risk with a high impact and low likelihood of occurrence. In light of the unprecedented fallout mentioned, an organization should not lose sight and be lulled into a false sense of security by the low probability score. The real question is how to respond should the risk occur, rather than whether it will occur or overly focus on preventative measure.
While the Covid-19 outbreak has already started, what can a concerned organization do to "ride-out" the expected lengthy period of possible disruption to internal operations and business commitments? Whilst there may be no one-size-fits-all solution, business continuity management (BCM) may help, either to set up one or upgrade an existing BCM.
Objective of a BCM is to contain the fallout. A well-designed BCM enables the business to maintain or resume essential operations as soon as possible after the risk have hit the organisation.
With management oversight, a BCM team should lead the development of a business continuity plan (BCP). A brief outline of the key BCP elements and considerations are set out below. The BCP is informed by a business impact assessment of business functions (based on up-to-date risk assessment discussed earlier). The development of response plans to mitigate the relevant impact on operations may well help the organisation to try to "bounce- back" better from Covid-19.
BCP – Outline of Main Elements and Remarks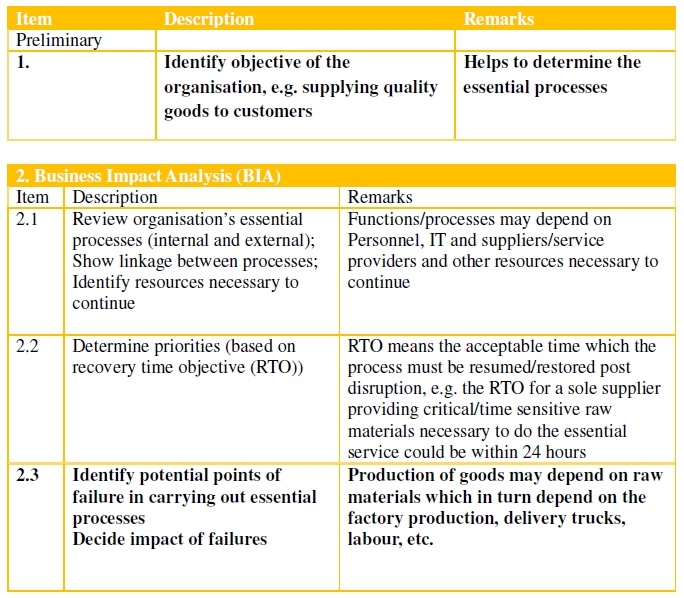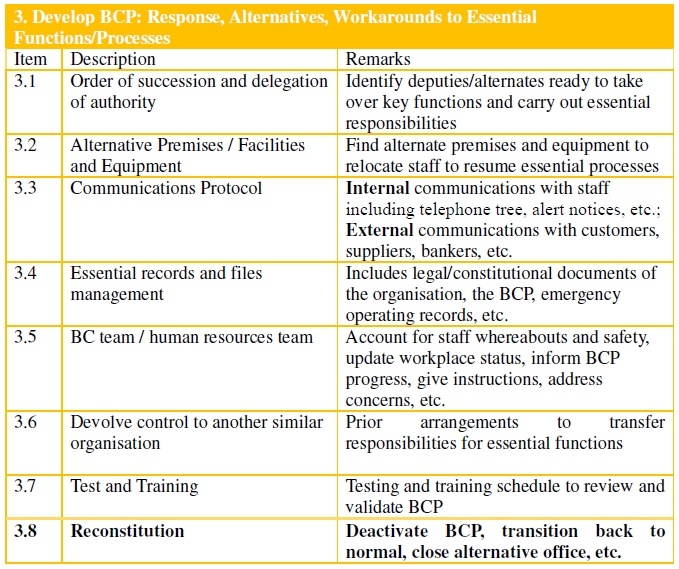 In short, to address expected prolonged and deep impact of Covid-19 and relevant government measures, a concerned organisation can improve its operational resilience by implementing a BCP or upgrading an existing BCP.
Watch This Space
Based on relevant experience and feedback from stakeholders, often the business continuity planning and risk assessment processes (plus relevant awareness and training) are just as important as the BCP document amid the current Covid-19 Outbreak. That said, it is not the intended design of Risk Management nor BCM to eliminate all risk. A BCP may not totally immunize the organisation against claims by customers, suppliers, etc. due to the coronavirus.
Thus, in the third installment of this three-part series, we will look at how an organisation can address possible legal claims arising from Covid-19, namely negotiation or mediation and legal advocacy, including possible relevant defences to the Covid-19 event.
Contact Us
If you wish to discover more, please contact Mr John Lee, partner, F. Zimmern & Co at johnlee@fzimmern.com.hk or Ms Sally Cheung at sallycheung@fzimmern.com.hk for general enquiry.
-END OF PART 2-