A Holistic Strategy to Upgrade Operations & Tackle Commercial and Legal Fallout of COVID-19 Outbreak [Part 1 of 3]
Introduction
On 11 March 2020, the World Health Organization declared the 2019 novel coronavirus outbreak a pandemic (also known as Covid-19). Among varying expert estimates as to how long the Covid-19 pandemic will last, a study by Imperial College London forecasts Covid-19 and relevant government control measures may last up to 18 months[1].
The tragic human cost of the Covid-19 outbreak is making daily headlines. Currently, it is reported that about one-third of the world's population is subject to lockdown and related measures (e.g. social distancing, etc.).
The Covid-19 pandemic is expected to severely pare macro-economic growth in 2020. Reports even suggest an economic recession. In early March 2020, the OECD warned that a prolonged Covid-19 outbreak could halve the forecast global growth rate to 1.5 percent.
· Supply and demand shocks (e.g. business supply chain disruptions)
· Financial effects and spillovers (e.g. liquidity issues)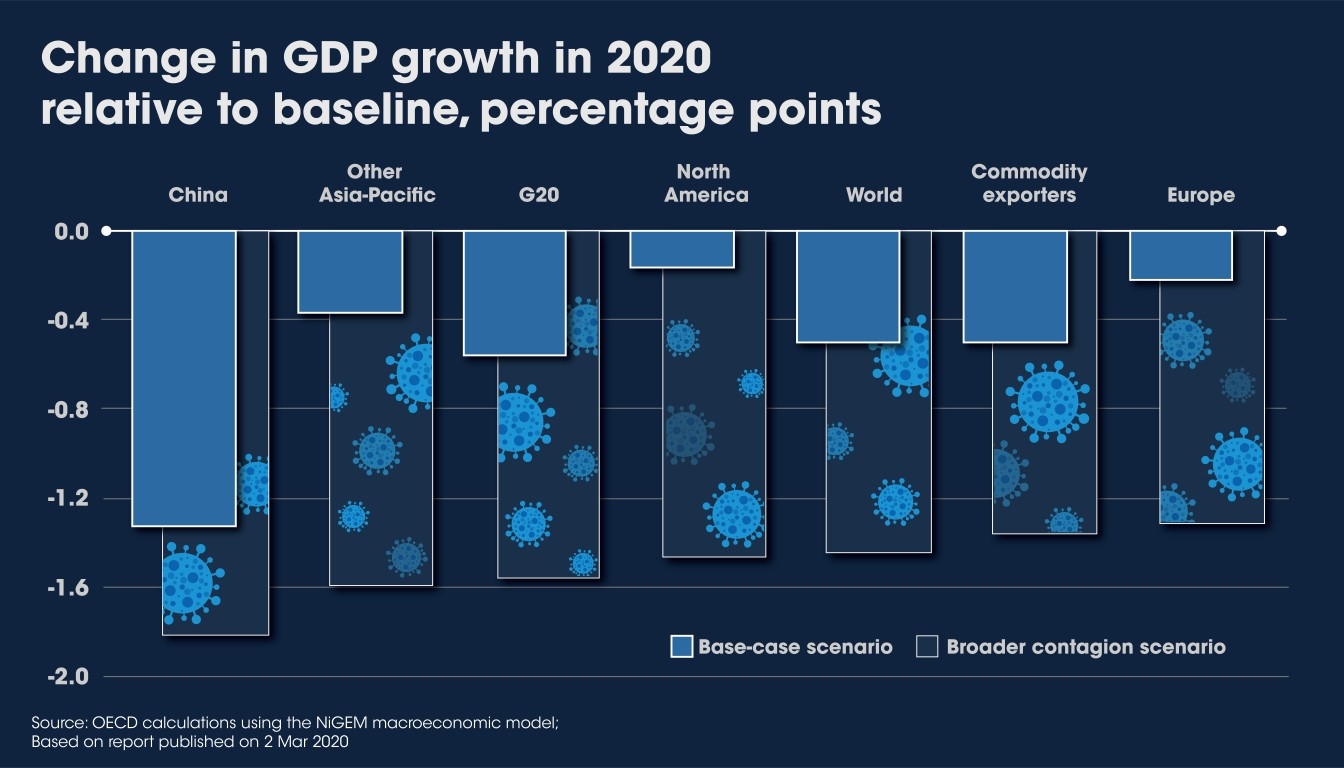 Credit @chartipedia
Response From The World So Far
On 3 March 2020, the G7 members issued a statement to use all appropriate policy tools to "support the economy". However, despite the unprecedented level of various government relief measures to tackle the pandemic, major global bourses have so far remained volatile as the Covid-19 chilling effect plays out globally.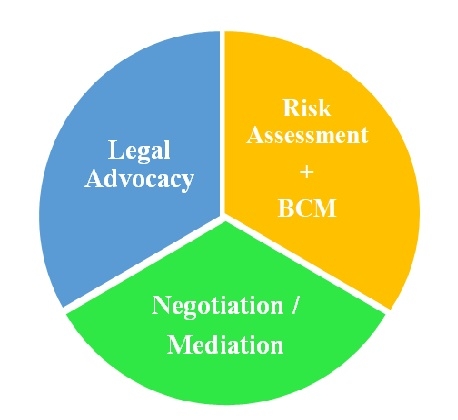 What's Next
Whilst the full extent remains to be seen, the current environment has no doubt exacerbated legal uncertainty and heightened commercial risks for many organisations. These concerned organisations may be asking the following questions:
1. Covid-19 crises may have taken many organisations by surprise. What can these concerned organisations do to mitigate further impact of the current crises on daily operations?
2. How can one be better prepared to handle such crises in future?
3. In the wake of the unprecedented magnitude of government measures and expected long duration of the Covid-19 pandemic, claims for breach of contract and other legal issues could be inevitable. What measures may the concerned organisations take to protect their rights and respond to relevant claims?
Holistic and Pragmatic Approach to Manage Commercial and Legal Fallout
As highlighted in the pie diagram below, organisations should take a holistic, pragmatic 3-pronged approach to overcome the possible legal and commercial fallout from Covid-19 and related government measures, which is expected to last for 12-18 months.
While each dimension is important, a portfolio approach is the key success factor to manage exceptional risks caused by Covid-19. Anything less may be short-sighted and ineffective. For example, due to insufficient preparedness in the meantime, the robust contractual safeguards in commercial contracts may not necessarily be able to save a party from operational disruptions or collapse in the meantime, and vice versa.
In the next article, we will discuss the three dimensions of a holistic approach and relevant considerations as follows: -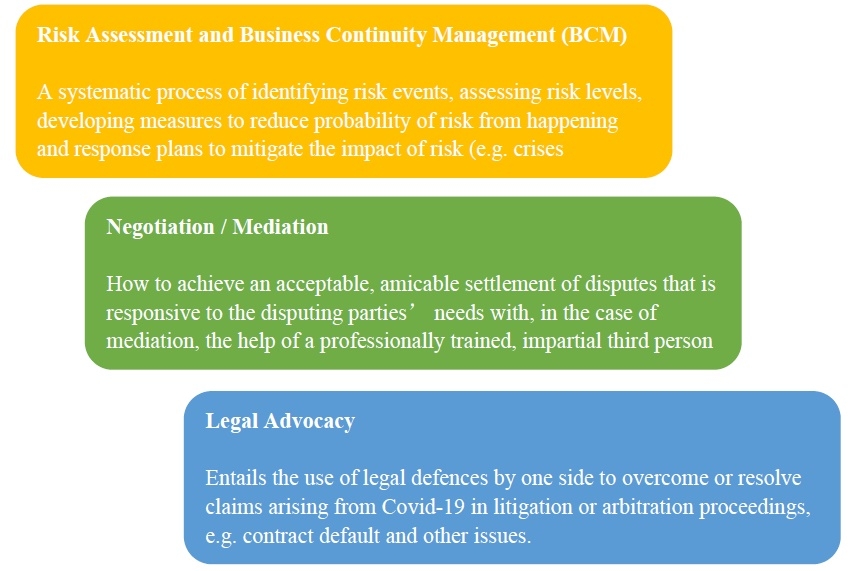 Based on relevant experience and working with stakeholders, we will share insight from each dimension in the coming two installments, plus checklists for quick action point. The second installment looks at how an organisation can address commercial issues arising from Covid-19 using risk assessment and business continuity planning. In the third installment, we discuss use of negotiation and mediation, and litigation defences, in response to claims arising from Covid-19. Stay tuned.
If you wish to discover more, please contact Mr John Lee, Partner, F. Zimmern & Co. at johnlee@fzimmern.com.hk or Ms Sally Cheung at sallycheung@fzimmern.com.hk for enquiry.
-END OF PART 1-
Reference:
[1] The findings are published in the 9th report from the WHO Collaborating Centre for Infectious Disease Modelling within the MRC Centre for Global Infectious Disease Analysis, J-IDEA, Imperial College London